Process for Filing for Divorce in Oklahoma
Filing for Divorce in OK - Learn the Laws & Costs
The divorce process is different for everyone in Oklahoma, in large part because every marriage is different. For some couples who agree on everything in their divorce, the process may be as simple as filing a document with the court, attending a brief hearing and waiting for the final resolution. For others, the process can take months, even years, especially if there are disputes over child custody, property division, alimony, and other issues.
Because your situation is unique, we strongly encourage you to retain an attorney who can help you understand the divorce process in Oklahoma and how it applies to you. At Nichols Dixon, we are dedicated to providing knowledgeable legal guidance and representation to individuals facing divorce or other family law matters.
Have questions about Oklahoma's divorce process? CONTACT Nichols Dixon at (405) 294-1511.
How to Get Divorced in Oklahoma
How do you get a divorce in Oklahoma? What are the main steps you will need to take? Below is an overview of the Oklahoma divorce process.
Oklahoma Residency Requirements
The first step in the process for filing for divorce involves determining whether you meet the residency requirements. To file for divorce, at least one spouse must have lived in the county where you want to file for at least 30 days and in the state for at least six months.
The Divorce Petition
If you meet the residency requirements, you can file a petition for divorce, called a "Petition for Dissolution of Marriage," with your county. This form must be given to the other spouse by mail or in person (this is called "service").
The Discovery Process
If you and your spouse disagree on any issues in your divorce, there will be a time of discovery.
During the discovery process, you, your spouse, and your attorneys will:
Identify issues, assets, debts, and witnesses
Exchange information, including tax documents, health care information, bank statements, credit card statements, etc.
Ask and answer interrogatories (questions asked of you)
During the discovery process, it is important to provide information in a timely and organized manner. This will not only help speed up the process, but it will also keep your costs down. In some cases, we will work with a respected private investigation firm to get all the necessary information from the other party.
Settlement Discussions & the Divorce Settlement Agreement
During the discovery process, you or your spouse and/or your attorneys may meet to discuss the terms of your divorce and determine whether you agree on certain issues. If you and your spouse agree on all the issues involved in your divorce, you can complete and file a divorce settlement agreement. If you do not agree, you may need to attend one or more court hearings. Keep in mind that there is some give and take during settlement negotiations, but you will have more control over the final outcome than if you ask a judge to make the decisions for you.
Divorce Mediation
Divorce mediation is one tool that helps parties settle cases before trial. During mediation, you and your spouse will be able to discuss the issues of your divorce with a neutral mediator. The mediator will help guide you to come to your own decisions about those issues. In some cases, mediation may not be effective, but it should be discussed and considered. In many cases, it can save both time and money.
Court Hearings
During your court hearings, you and the other party will have time to present your side of the story, whether you are contesting:
If you are going through a fault-based divorce, you will need to provide evidence for or against the grounds for the divorce.
The Waiting Period
If you do not have minor children and are going through an uncontested divorce, the divorce can be finalized within 10 days. In uncontested divorces where you share children, the waiting period is 90 days. The judge may decide to forego this if there are absolutely no objections to the terms of the divorce. If approved, a divorce could be granted 30 days after the initial case filing.
Contested divorces can take much longer. There may be multiple court hearings on a variety of divorce issues and the court will need time to issue a decision.
The Final Resolution
Once you have filed a settlement agreement and the waiting period has elapsed or once the court has made an order on all the divorce issues, you will receive a final divorce decree. At this point, your divorce is complete. If you want to make changes to the divorce decree in the future, you may be able to seek a modification of certain child custody, support, or visitation orders, depending on the circumstances.
It is also important to note that following the entry of your final divorce decree, you are prohibited from remarrying in Oklahoma for six months.
Cost of Divorce in
Oklahoma
The cost of a divorce varies greatly depending on the issues at hand. Family matters consisting of issues such as custody or support may drag the length of the divorce which may result in higher attorney's fees.
Why You Need a Lawyer for Divorce in OK
While there is no requirement by the state to hire a lawyer for divorce, having legal representation comes with many benefits:
Laws & Regulations - As you can imagine, the laws surrounding divorce can be complex, especially if minor children are involved. Having a lawyer by your side to explain the legalities of your case is invaluable.
Less Headache - There is often mounds of paperwork and court documents needed to be filled out for divorce, especially if the divorce is contested. A lawyer can take this load off your plate, as divorce by itself is stressful enough.
Mediation - Lawyers often act as a source of mediation between two spouses. This ensures that negotiations are peaceful and transparent.
Sensitive Issues - Many issues surrounding divorce are sensitive in nature, and require your full-attention. These include child custody, support, and division of property. It is important to act without emotion. However, divorce is very emotional, which is why having an attorney guide you is critical.
Referrals - A knowledgeable attorney can also refer you in the right direction for other professional support. These professional services include actuaries, accountants, and appraisers.
Remember, how you choose to utilize a lawyer's services is entirely up to you. Some individuals prefer having control over their divorce and having an attorney as a guide or mentor. Our attorneys at Nichols Dixon have your best interests in mind, and will be with you every step of the way.
Contact Nichols Dixon PLLC Today!
Learn more about the process for filing for divorce and discuss your own divorce with an experienced attorney. Reach out to the team at Nichols Dixon! We would be happy to discuss your unique case during a consultation.
To learn more about the process for filing for divorce in Oklahoma, call (405) 294-1511 today.
CLIENT REVIEWS
Opinions That Matter the Most
I would recommend Lucas to absolutely anyone

- Former Client

My family will always appreciate the hard work you all put in so thank you from the bottom of our hearts!

- Okie M.

Best group of lawyers in Oklahoma!!!

- Roberta B.
WHAT SETS US APART
Why Nichols Dixon is Right For You
Honesty and Integrity are Cherished Values

Trusted Reputation in the Community

Experienced with Highly Complex Cases

Highest Level of Professionalism & Dedication

Personalized Strategy for Each Client's Needs

Attorneys Who Genuinely Care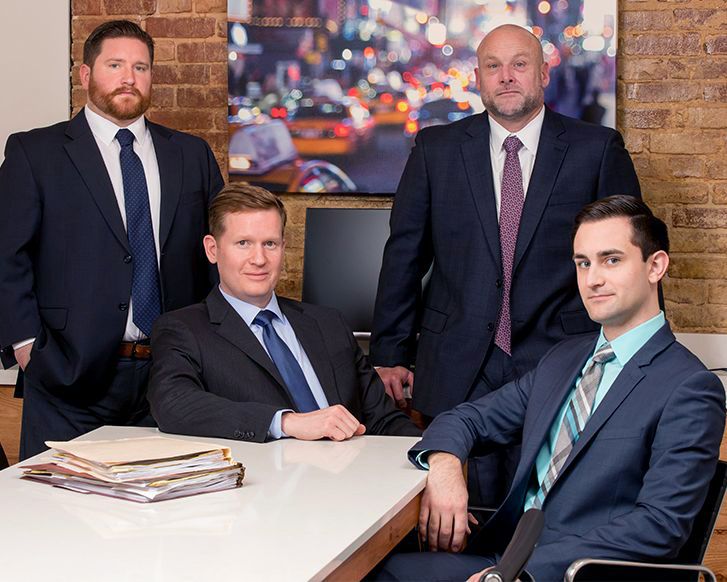 THE LAW IS NOT JUST A PROFESSION TO US
Take the First Step Towards Resolving Your Legal Challenge