Highly-Rated Norman Child Custody Lawyer
Helping Families With Sole & Joint Custody Throughout Oklahoma City, McClain County & Cleveland County
Our Norman child custody and visitation rights lawyers have decades of combined experience to apply to your family law issue. Our OK family law attorneys remain dedicated to achieving your goals as efficiently as possible through stellar service and prominent legal ability. Our child custody lawyers in Norman, OK, always work to obtain goals, especially for your child's best interests.
Learn more about your custody case and how our lawyers can help by calling

(405) 294-1511

or completing our LAW FIRM ONLINE CONTACT FORM today.
Child custody and visitation rights are issues that must be resolved to finalize your divorce. These family law matters may also arise in post-divorce situations when modifications to existing court orders are needed to accommodate substantial changes in your or your ex-spouse's circumstances.
In some instances, grandparents need to step in to care for a child or to seek the right to visit a child when barred by an uncooperative parent. Whatever the situation you face concerning your child(ren) or grandchild(ren), Nichols Dixon is here to help.
What Are the Different Types of Custody in Norman, Oklahoma?
Child custody in Oklahoma, OK, generally refers to both physical and legal custody. Physical custody involves where and with whom the child lives, while legal custody refers to a parent's right to make decisions about the child's education, health, religious practices, and other important child custody issues.
Oklahoma courts favor children having a structured and continuing relationship with both parents barring any reason against it (such as domestic violence or a substance abuse problem). Therefore, many courts award joint custody, as it is considered to be in the child's best interests.
At Nichols Dixon, our Norman family law lawyers provide assistance with custody-related issues for parents and grandparents such as:
Parenting plans
Custody agreements
Parent or child relocation
Pursuing legal adoption of a grandchild
Post-judgment modifications of custody orders
Protective and restraining orders to protect children
Enforcement of custody and visitation orders when obligations are not being fulfilled
Paternity testing and litigation if needed to establish parental rights related to custody, visitation, and child support
Establishing a visitation plan that enables grandparents to see a grandchild and play an active part in the child's life
Establishing a guardianship that will allow grandparents to make important decisions and act legally on a grandchild's behalf — typically when biological parents cannot or will not handle these responsibilities
How Is Child Custody Determined in Norman, Oklahoma?
A judge will consider a variety of factors when deciding on custody. In Oklahoma, decisions are always determined based on the "child's best interests." The courts in Norman will also consider what the child prefers, in cases involving older and discerning children who can vocalize their wants and needs.
Some of these factors include the following:
The parents' physical, emotional, and mental well-being
The need to provide a stable home environment for the child
The ability to provide a support system for the child
The child's current school and community
Whether or not a parent has had a history of abuse or domestic violence
Whether or not a parent has had a history of drug, alcohol, or sexual abuse
The child's personal preferences, if reasonable
Of course, every child's needs will be different. The bottom line is ensuring that your child continues to be brought up in an environment that is not only supportive, but will allow him or her to thrive, grow, and learn. If you have questions about child custody and the next steps in the court process, please do not hesitate to contact Nichols Dixon PLLC.
Determining Parental Fitness in Norman, OK
Parental fitness refers to a parent's ability to provide the bare minimum of care for their child. If there is proof to the contrary, the court generally concludes that parents are fit to parent. It's not unusual for one parent to say the other is unable to have custody in a contested child custody dispute. When a parent's fitness is challenged, the court will request proof to back up the assertion. Parental fitness is difficult to prove, and the court evaluates a parent's fitness on an individual basis. As a result, certain considerations will be included in determining whether or not the parent is capable of parenting.
Is Oklahoma a Mother's State?
In Oklahoma, the mother legally retains sole custody of any child born out of wedlock. Basically, any father that isn't married when their child is born has no automatic custody rights. However, once he establishes paternity, he can then petition the Oklahoma courts for custody, visitation and child support rights.
Talk to one of our Norman child custody and visitation rights lawyers about your legal family law issue today. Call (405) 294-1511.
CLIENT REVIEWS
Opinions That Matter the Most
I would recommend Lucas to absolutely anyone

- Former Client

My family will always appreciate the hard work you all put in so thank you from the bottom of our hearts!

- Okie M.

Best group of lawyers in Oklahoma!!!

- Roberta B.
WHAT SETS US APART
Why Nichols Dixon is Right For You
Honesty and Integrity are Cherished Values

Trusted Reputation in the Community

Experienced with Highly Complex Cases

Highest Level of Professionalism & Dedication

Personalized Strategy for Each Client's Needs

Attorneys Who Genuinely Care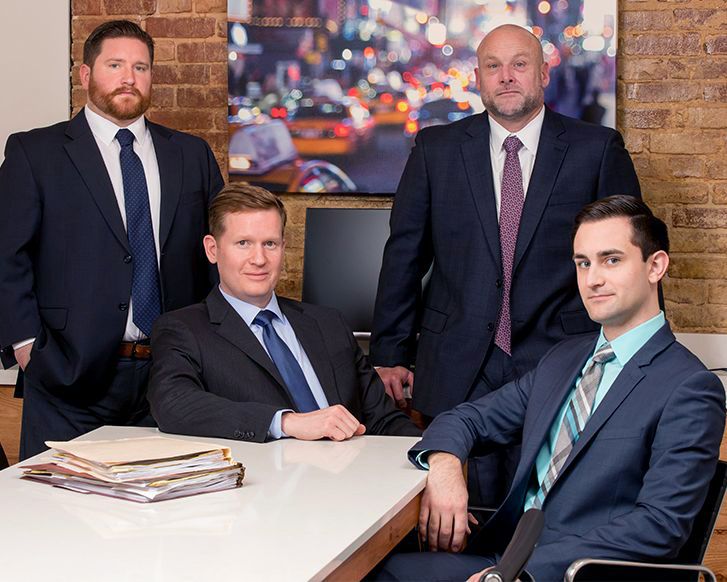 THE LAW IS NOT JUST A PROFESSION TO US
Take the First Step Towards Resolving Your Legal Challenge