Governmental Torts Attorney in Norman, OK
Advocating for Injured Individuals Against Government Wrongdoing
Historically, private citizens or the subjects of a state or kingdom were prohibited from instituting a legal action against the government. This is known as "sovereign immunity" and remains in practice to a certain extent today.
The U.S. government's liability for private torts is restricted by the provisions of the Federal Torts Claim Act. In Oklahoma, the extent to which the government can be liable for the injuries of private individuals is governed by the Governmental Torts Claim Act. These laws dictate what government agency or official can be sued for torts suffered by private persons.
However, the government's immunity from liability is not absolute. Under federal and state law, the government has essentially agreed to liability for certain wrongs under certain circumstances. If you've been injured by the wrongful or negligent conduct of a government entity or official, you should consult a Norman, OK governmental torts attorney from Nichols Dixon.
To learn more about how our legal team can help you in a tort claim against the government, call us at (405) 294-1511 today.
The Federal Tort Claims Act
The legal authority for imposing liability on the federal government for certain tortious acts arises from the Federal Tort Claims Act of 1946. However, the circumstances to which the federal government can be sued for tortious injuries suffered by private citizens is restricted.
Federal liability for torts is limited in the following ways under the Federal Tort Claims Act:
The government's liability for torts is subject to the law of the state where the tort occurred
The government is immune from liability for discretionary functions or duties of officials and agents
The government is immune for claims arising out of assault, battery, false imprisonment, false arrest, malicious prosecution, abuse of process, libel, slander, misrepresentation, deceit, or interference with contract rights
However, certain intentional torts resulting from the actions of a federal investigative or law enforcement officer are not exempt from liability.
Oklahoma's Governmental Tort Claims Act
Under Oklahoma's Governmental Tort Claims Act, state entities and their employees cannot be sued for losses or injuries stemming from the following activities:
Legislative acts
Judicial, quasi-judicial, or prosecutorial acts
Enforcement and execution of lawful court orders
The adoption and enforcement—or the failure to adopt or enforce—state and local laws
Official acts subject to the discretion of a state, political subdivision, or its employees
Unlike tort claims against private individuals, a tort claim against a state, political subdivision, or its employees involves a different procedure. This procedure involves filing an initial claim with the appropriate government body for administrative approval or denial. Furthermore, there are specific deadlines for filings under the Governmental Torts Claim Act.
The legal team at Nichols Dixon has experience with the following issues and procedures involving governmental tort claims:
Initial claims: Initial claims must be filed to the Office of the Risk Management and Enterprise Services. Our attorneys can guide you through the claims process to make sure your claim complies with the specific procedures listed under the Governmental Torts Claim Act.
Notice and service of process on governmental entities: Tort claims against the government require compliance with specific notice and service of process requirements. We will make sure your claim is in compliance with such requirements.
Property damage or personal injury claim forms: Depending on the political subdivision, you may need a specific form to file a claim against the government. Our legal team is familiar with the necessary forms that state agencies require to initiate a property damage or personal injury claim against the government.
Petitions for filing government tort claims: In the event your governmental tort claim has been denied, we can help you file a petition for filing a governmental tort claim in accordance with 51 Okl. St. § 157.
Consult One of Our Governmental Torts Lawyers in Norman, OK for Advice
If you have been injured as a result of either the federal or Oklahoma government's reckless or negligent disregard for your safety, you may be entitled to recover compensatory damages from the government for your injuries. To better understand the full extent of your legal rights, you should speak to a skilled attorney from Nichols Dixon. Our legal team is dedicated to representing your legal interests to the best of our abilities to ensure you receive a legal remedy for your injuries.
To schedule an initial case evaluation about your rights, call us at (405) 294-1511 or complete our online consultation request form today.
CLIENT REVIEWS
Opinions That Matter the Most
Clients are treated with respect, prompt replies to all forms of communication, and each client is seen as a person and not just a ...

- Blessed O.

My family will always appreciate the hard work you all put in so thank you from the bottom of our hearts!

- Okie M.

Best group of lawyers in Oklahoma!!!

- Roberta B.
WHAT SETS US APART
Why Nichols Dixon is Right For You
Honesty and Integrity are Cherished Values

Trusted Reputation in the Community

Experienced with Highly Complex Cases

Highest Level of Professionalism & Dedication

Personalized Strategy for Each Client's Needs

Attorneys Who Genuinely Care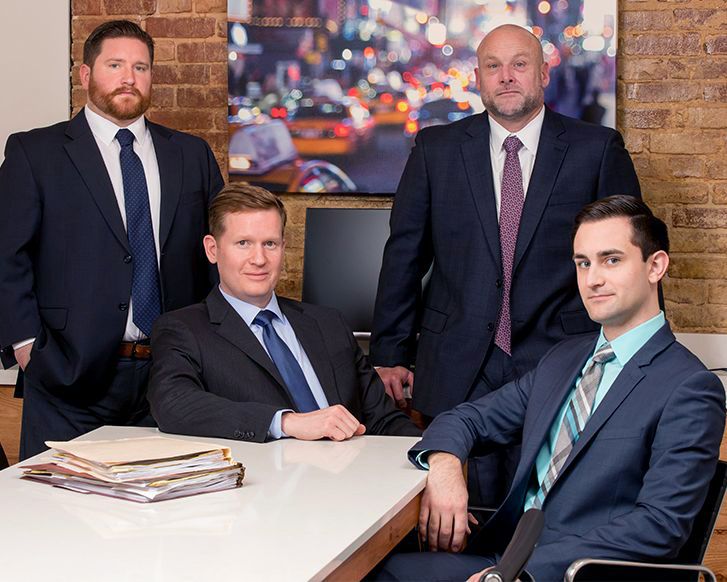 THE LAW IS NOT JUST A PROFESSION TO US
Take the First Step Towards Resolving Your Legal Challenge